Today's Friendly Friday blogger is
Paula Whitehouse
from over at
Paula's Sharing Spot
. She's a sweet gal who's super fun and interesting. I met her on Twitter about a month ago, and her blog (which is lovely, by the way) is a real look into her heart.
And she's Australian. How cool is that? I wonder if she says, "G'day, mate?" Because, you know, that's almost all I know about Australians. Here's the rest of it: Koala. Wallaby. "Tie Me Kangaroo Down, Sport." Boomerang. Outback. Great Barrier Reef. Everyone wears khaki all the time and those hats with the one side up. Surfing. Hobbits? No, that's New Zealand.
Sorry, Paula.
I'm glad she's writing about identity today. She's written about it on her blog recently, and it's something a lot of us struggle with in this world (myself included). I'm glad she chose to share this with us!
Read her
here
, read her
there
. Read her everywhere!
**************************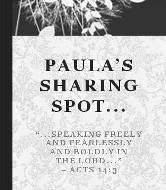 How do you discover who you really are in Christ?
This is a question that keeps cropping up a lot of late. I mean, I know who I am as Paula; I even did a blog post on it a couple of months back titled Discovering My True Identity. But there is still this question left unanswered.
As far as how God feels about me—well, I know that I am "fearfully and wonderfully made" and "altogether beautiful." However, I've been getting the feeling lately that there is more to this life than just the body I walk around in. After all, it is only temporary and we are promised new bodies when we get to heaven.
"While we live in these earthly bodies, we groan and sigh, but it's not that we want to die and get rid of these bodies that clothe us. Rather, we want to put on our new bodies so that these dying bodies will be swallowed up by life."
Now, it's not that I want to die, but I know I want to get to heaven. It's not that I want to give up, but that I want to keep going for Him because I know there is more to this life than meets the human eye!
I love the quote by CS Lewis that says, "You don't have a soul. You are a Soul. You have a body." This sums up my "because I know there is more" feeling I have about life here on earth.
John 4:23-24 from The Message gives a clue to who God wants us to be:
"It's who you are and the way you live that count before God. Your worship must engage your spirit in the pursuit of truth. That's the kind of people the Father is out looking for: those who are simply and honestly themselves before him in their worship. God is sheer being itself—Spirit. Those who worship him must do it out of their very being, their spirits, their true selves, in adoration."
It's about living for Him and worshipping Him in truth and honesty. It's being the "Soul" that God planted in us before the beginning of time. It's letting our spirit and our joy bubble over onto the outside into this fallen world we live in.
So, to answer my question: I believe that to truly discover who you really are in Christ is to let the Holy Spirit work IN you. It's not rocket science, this walk with God, but it is about trust, obedience, worship and reverence to Him. All things that will be rewarded by His truth about who we really are, and the promise of eternal life with Him.