Doesn't that title just bring a little sunshine into your life? I think so. And that's exactly what
A Pink Daisy Life
's author
Heatherly Sylvia
does, too! She's a sunshiny gal who's a new friend of mine on Twitter, and I'm so excited that I'll get to meet her at
She Speaks
next month!
Ooh, it's only a month away! Woo!
Heatherly actually submitted this essay for my She Speaks essay conference, but then her registration was paid in full and she withdrew her name. God works in amazing ways! So enjoy this essay as much as I did, and then go visit her
here
and follow her
here
!
*****************************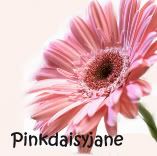 "Brothers, I do not consider myself yet to have taken hold of it. But one thing I do: Forgetting what is behind and straining toward what is ahead, I press on toward the goal to win the prize for which God has called me heavenward in Christ Jesus." - Philippians 3:13-14
My campus pastor gave an inspiring talk my junior year about finding the "one thing" and pressing in hard towards that goal. We were encouraged to "throw off anything that hinders" and "keep our eyes on Jesus."
For years I have pressed on.
Unfortunately, at times it has been a sporadic, sometimes half-hearted effort.
Because it seems that there are just so many little things involved in that "one thing." In order to follow hard after Jesus, I need to spend time reading and studying, fasting and praying, serving and loving...
Is it me, or does that seem like an awfully long list for "one thing"?
Of course, that's looking at it from a human perspective. Truthfully, I feel very human these days. My laundry isn't done, my correcting is half-finished, and my floors are covered in crumbs. My children spend more time in front of the TV than I would ever allow under normal circumstances, but I'm just too tired to turn it off and entertain them myself.
My list is long and my time is short. Instead of prioritizing, I do nothing.
I sit motionless, hoping that somehow, by some miracle, my writing will get done, my laundry will be folded, and a dinner will appear, all without any effort from me.
How did I get to this place?
It's simple. I tried to "press on" in my own strength. I forgot the most important piece, found later, in Philippians 4.
I forgot the secret to contentment - the secret to letting go of all of the extra "stuff" that makes my walk of faith feel like a walk of obligations. I forgot that it is Christ that gives me the strength, the joy, the peace that allows me to live hour by hour.
Whether my life is busy or whether I am using my self-inflicted exhaustion as an excuse, if I rejoice, and bring everything to God, it will all fall into place.
I will still have to get off the couch and fold the laundry, but I will be able to do it with a renewed perspective and the knowledge that my one thing is to have the faith that He will strengthen me in

all circumstances.
I can choose joy, lay my concerns at His feet, and rest in Him, even as I get up and get moving once again.
©
Heatherly Sylvia, 2011